Second-Gen iPod Touch Faster Than iPhone 3G: Report
Tuesday, November 25, 2008 2:05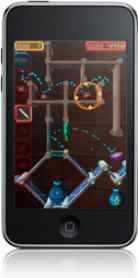 Both the iPod Touch 2G and iPhone 3G use the same CPU, but apparently the second generation iPod Touch is clocking its quite a bit faster, according to a
report
. While observing empirical evidence that the iPod Touch 2G was running games quite a bit faster than the iPhone 3G, Handheld Games Corp. noted that the CPU in the devices, an ARM 1176, is running at 532 Mhz in the Touch 2G, and 412 Mhz in the iPhone 3G.
Now, some might wonder if this bump up came with the 2.2 software update; it might have. Since the CPU in both devices is underclocked anyway (the ARM CPU is capable of 620 Mhz), it's possible the iPhone might get a boost later; historically it's been done, with the 1.1.2 update for the original iPhone boosting speed from 400 to 412 Mhz.
Of course, once they did that, you'd hear tons of complaints about the affected battery life (has anyone besides me noticed the difference in battery life in 2.2? Waaay better). What would be really cool is if they made the CPU speed adjustable.
On the other hand, remember how Apple has been billing the iPod Touch 2G in its commercials? "The funnest iPod ever." Typical of gaming PCs which require way more power in order to run games effectively, the same is obviously true for handheld gaming platforms, which Apple seems to be pushing the iPod Touch 2G as.
Further, according to the report, here's how the 1st and 2nd generation devices stack up:
iPod Touch 2G
iPhone 3G
iPhone (original)
iPod Touch 1G
Follow any responses to this post
RSS 2.0
feed.